Accessibility and inclusion made simple
Disability-led learning
---
Our disability-led training is informed by 22 years of experience supporting live music and outdoor events industries to improve accessibility.
We have trained over 10,000 industry professionals to date, and currently train around 500 people a year across a wide range of sectors.
All of our training is designed and delivered by people with lived experience of access requirements, overseen by our Head of Skills Development Paul Hawkins, who holds a Postgraduate Certificate in Education and Diploma to Teach in the Lifelong Learning Sector.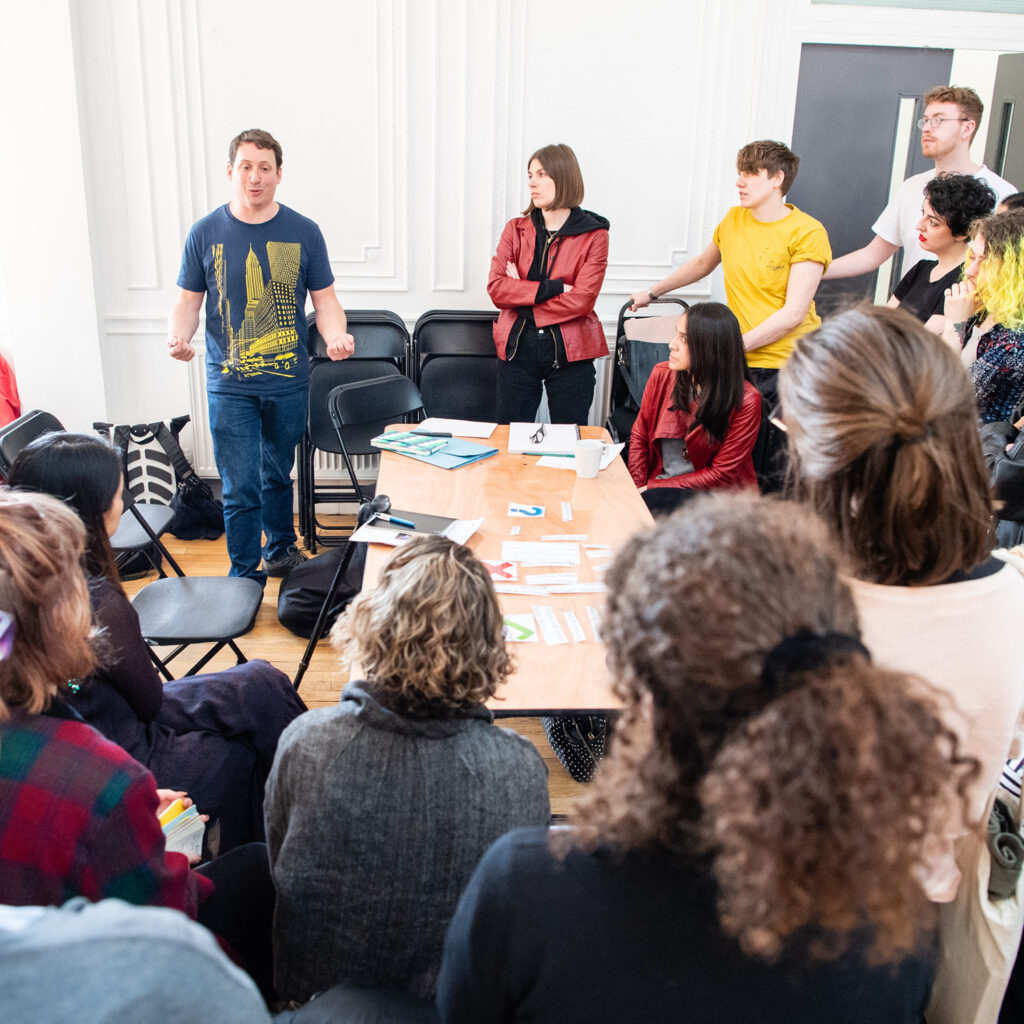 "One of the most important training courses you will ever experience, challenging preconceptions and delivering key messages that will be a real game changer for you and your organisation."
DF Concerts
Cross-sector experience
---
We have delivered training to:
music venues and festivals of all scales
theatres
arts centres
community event organisers
exhibition providers
security companies
racecourses and football clubs
museums and galleries
local authorities and government agencies
major events such as the London Olympics 2012
Previous clients include the O2 Arena, Glastonbury Festival, the NAA (National Arena Association), AMG (Academy Music Group), British Council (Venice Pavilion Fellows), Orchestras Live, A Summer Like No Other (Cultural Olympiad London 2012), Brighton Centre, First Direct Arena, Norwich Arts Centre, Roundhouse, Festival Republic, Southwark Council, Sound Connections, Edinburgh Fringe Society and HM Government of Gibraltar.
"The training is superb and the trainers really get events people. I would struggle to find a better programme anywhere else in Europe."
Mind Over Matter
Who are you looking to train?
---
We have a range of training courses and add-on modules tailored for different needs and budgets.
Our sessions are interactive and varied, including seminar elements, small group work, and conversation as a whole group.
All of our training can be delivered online or in person.
Sessions for teams start at £975 for a 3-hour webinar or £1260 in person. We can offer a reduction in fee for charities, non-profits and community engagement companies.
We also offer monthly open training sessions if a team session does not suit your circumstances.
Enquire about booking a session for your team
---
We offer a 3-hour to Disability Equality and Customer Service training session for teams of up to 20 people in person or online.
This training is pitched at the Bronze level of Attitude is Everything's Live Events Access Charter or the first step of building a staffing team with a rounded concept of access and inclusion.
Topics covered include:
Disability and the UK today
The Equality Act
Social model of disability
Practical case Studies
Language and terminology
If you wish to enquire about booking a session, please complete the form below and someone will be in touch.
Event Industry Forum-funded open training
---
Attitude is Everything have been awarded a grant by the Events Industry Forum to provide funded training places and other sessions to help smaller events across the UK make what they offer more accessible to disabled audiences, artists, employees and volunteers.
Disability, Equality and Customer Service Training Open Sessions
---
We run these 3-hour sessions online monthly.
These sessions aim to provide participants with the necessary tools to ensure that their customer service is inclusive and accessible to disabled people.
Whether you work in live events, retail, hospitality, healthcare, or any other customer-facing industry, this training is for you.
Topics covered include:
Disability and the UK today
The Equality Act
Social model of disability
Practical case Studies
Language and terminology
Book your place on an upcoming session via. Eventbrite:
Click on this link to find our dates and to book your place.
Cost
Places are £77pp (+VAT).
Bursaries may be available depending on your circumstances. Please email us at [email protected] to find out more.
Train the Trainer
---
Our Disability Equality and Customer Service training can be provided as a Train the Trainer course.
Capacity for this is currently limited, but we will be able to deliver this course again later in the year.
Over three days, we will train your Learning and Development Team to deliver our training and provide attendees with a three-year license and training support. The license is renewable after a further day's refresher training.
Our Train the Trainer clients include HM Government of Gibraltar, the Scottish Events Campus and Lincs Inspire.
"The Attitude is Everything 'Train the Trainer' training was extremely beneficial to SEC as an organisation and the partner services we use. Not only was the training thorough, supportive and very well presented, it was also very 'real world advice' and adapted to our needs as a venue business. In addition, as we've been rolling it out to various groups of staff as needed (stewards, Event Managers, Heads of Department and soon to be Executive Directors) everyone has commented on how well the trainers know the subject and the obvious enthusiasm they have for the project; of course that's driven by the individuals' own passion for improvement, but it's also a testament to how confident they feel presenting quite a tricky subject at time, a confidence that's borne out of the training they received from Attitude is Everything."
Scottish Events Campus
Make an enquiry
Email: [email protected]
Falmouth University course
---
This in-depth two week online Disability Equality Training for Live Events course delivered by Falmouth Flexible has been designed by us to equip you with the understanding and practical skills needed to meet Deaf and disabled customers' access requirements at your events.
You will:
Discover how getting disability access right can be good for business
Explore examples of good and bad access provision
Learn your responsibility under the 2010 Equality Act
Explore how to make your events accessible
Learn the importance of terminology and why you should include deaf and disabled people in your events.
To find out more, visit the Falmouth University website.