Moments from the history of Attitude is Everything
1990s
---
Hello, I'm Suzanne, Founder of Attitude is Everything.
I've been a professional gig-goer since I was 13. I've always loved music but because I'm disabled there are lots of barriers that can stop me from accessing it. In 2000 I founded Attitude is Everything to do something about it!
This grainy picture was taken at Glastonbury Festival in 1990 . I'm standing in the 'pit' of the Pyramid Stage. I guess you could say this is where it all began. Back in the day, there was no 'access' at any venues or festivals (Glastonbury is now an incredibly accessible festival and Gold on our Live Events Access Charter).
I'm in the pit because I'd been pulled out from the front of the crowd by security part way through the day when they saw that I was getting crushed. Later that same day, I managed to sneak to the front again with lots of kids who were given priority access for De La Soul.
That night, I had to get pulled out again because I got my neck trapped on the front of the security barrier. As I was thinking to myself "I'm sure there's a better way to make live music accessible for disabled people," a guy standing next to me happened to look down, saw that I was gasping for breath, picked me up and threw me over the barrier to safety.
After that hair-raising experience, I knew I had to challenge the status quo…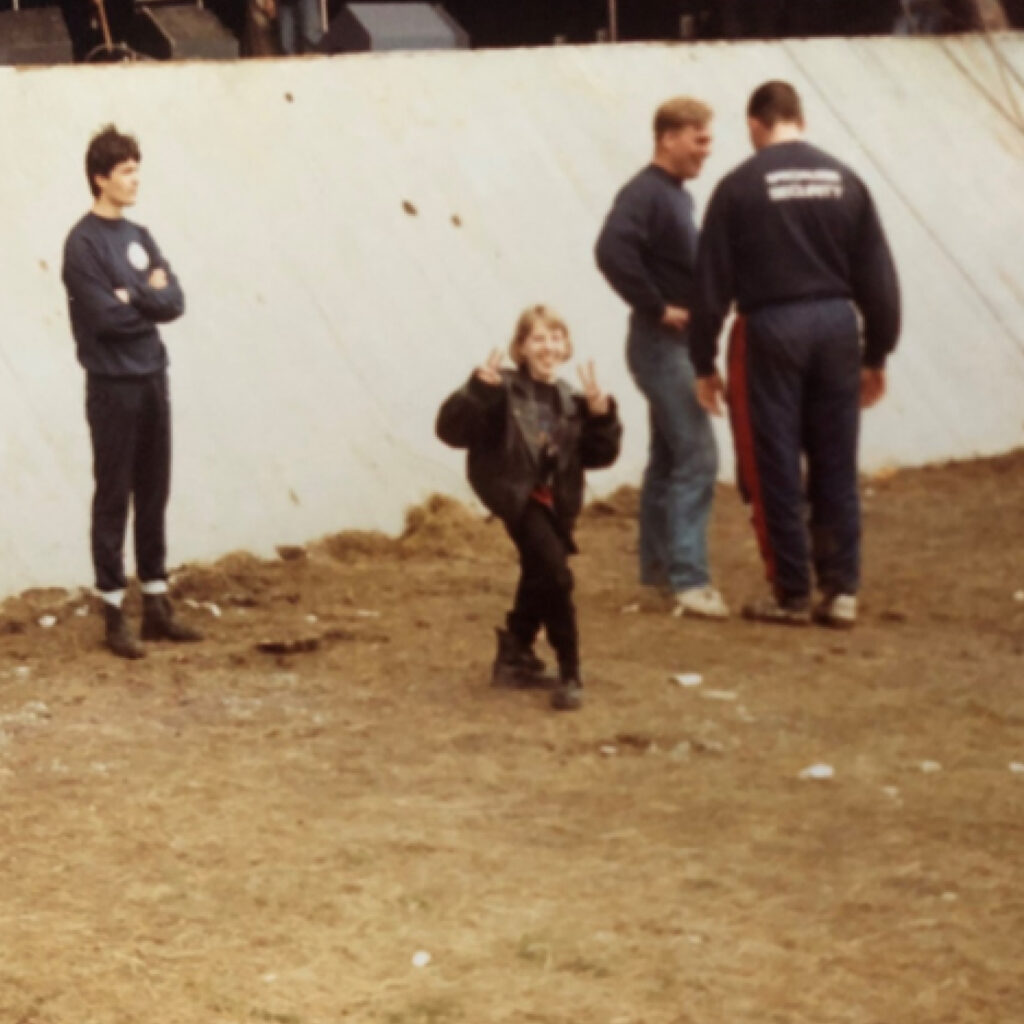 2000-2001
---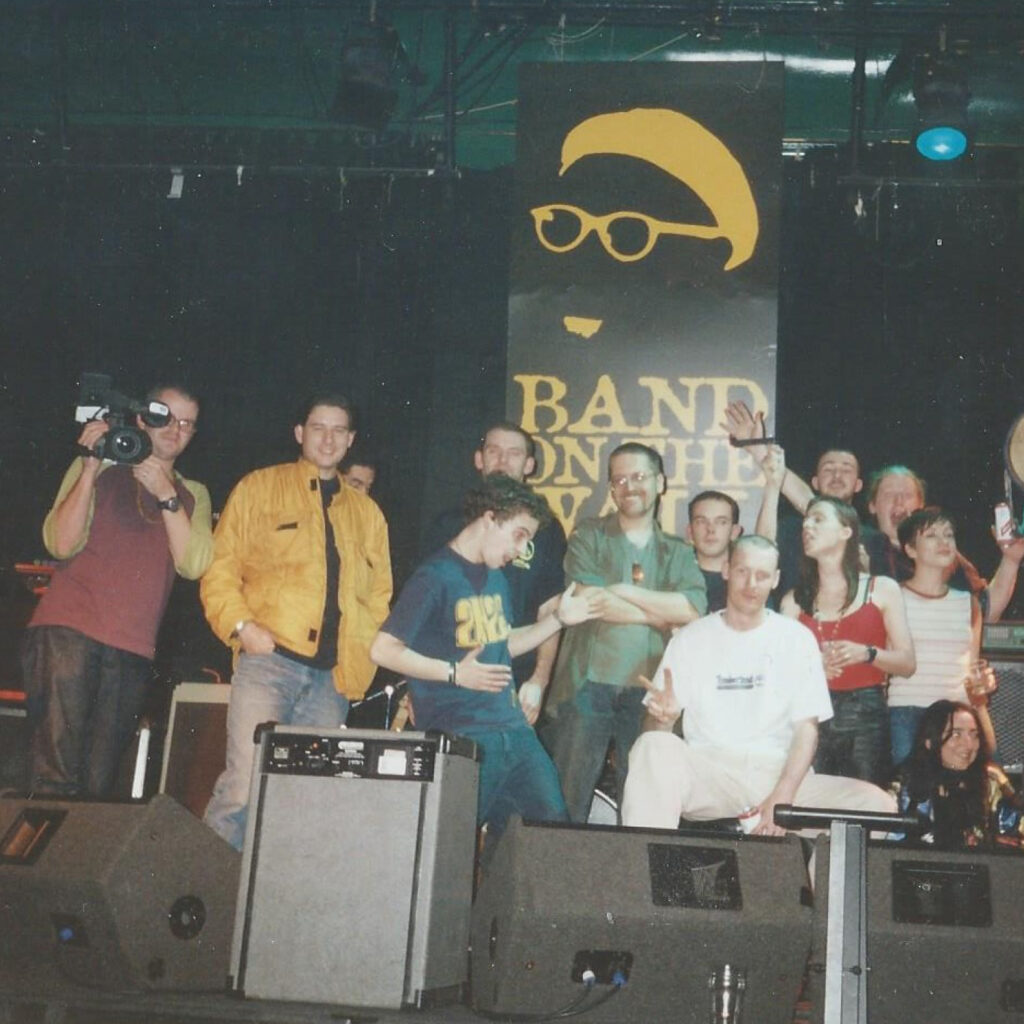 This photo was taken in 2001 at Manchester's Band On The Wall, one of the original venues signed to our Charter of Best Practice (now our Live Events Access Charter); a framework designed by us to make equality law practical for the music industry. It was the last night of the "Attitude is Everything Charter of Best Practice Tour," funded by Arts Council England to celebrate a successful pilot programme. It was so successful that we were granted another year's funding. Pictured are The Escapists, Squad 69 and Fake Plastic Trees, our BSL Interpreters, our Tour Manager, our Filmmaker and my Support Worker. It was a riot, but what goes on tour, stays on tour!
In the first year of the programme, we had successfully launched our pilot at Camden Dingwalls, London with Mat Fraser, Pozest, Darren Hayman and Jack Hayter from Hefner, and Drugstore. We tried out a model of programming disabled and non-disabled artists on the same bill, with the band that had the biggest following headlining, and we continued to use the same model for our 2001 Tour, and our later Club Attitude events.
We'd also signed our first 10 Venues to the Charter, recruited 10 disabled 'Mystery Shoppers' – volunteers to collect feedback about gigs at those venues – and we'd produced our first ever project report on what access was like for disabled music fans at the time.
Key moments
1999
Arts Council England offer us a grant to run a pilot programme to improve disabled people's access to live music.
2000
The Attitude is Everything Charter of Best Practice and pilot programme is launched at Camden Dingwalls, London.
2001-2010
---
This photo was taken in the early 2000's, when our Club Attitude nights were at their height, taking place every two months and being hosted by The Spitz in Spitalfields Market, East London. Even from the beginning of Attitude is Everything, I was determined that the programme wouldn't last for one year; my vision remains that it'll last for as long as it's needed. I was also focused on developing the programme wider than just supporting disabled audiences because disabled people aren't just passive receivers of music, they're also talented creators and employees too.
The Mystery Jets played one night, not headlining because it was before they had been signed to any label, but they'd sent in their demo to our Club Attitude promoter. I'd met Blaine and Will on the viewing platform at a Radiohead gig a few months before. I had one Club Attitude flyer left, and I was scanning the platform to see who would most likely appreciate a flyer, and I spotted them. They were happy to receive it and told me that they were in a band.
And the rest is history.
I've always thought that we could chart the rise of Attitude is Everything alongside the Mystery Jets; as they grew in favour, so did we. In later years Blaine Harrison, their vocalist, became one of our Patrons and an Artist Ambassador. He describes himself as an "Accessivist", highlighting the experiences that he's had as a disabled artist whilst at the same time opening those metaphorical doors so that lots of other disabled creators can flood through.
Key moments
2001
Pilot programme in such demand that it receives another year's funding in September, and we celebrate with the 'Attitude is Everything Charter of Best Practice Tour' across the UK.
2005
Disabled Stewards Festivals Programme launches at Glastonbury.
2008
We became our own independent charitable organisation and limited company and receive our revenue grant from Arts Council England.
2009
First Club Attitude at Glastonbury Festival on the Dada Stage, in partnership with Continental Drifts.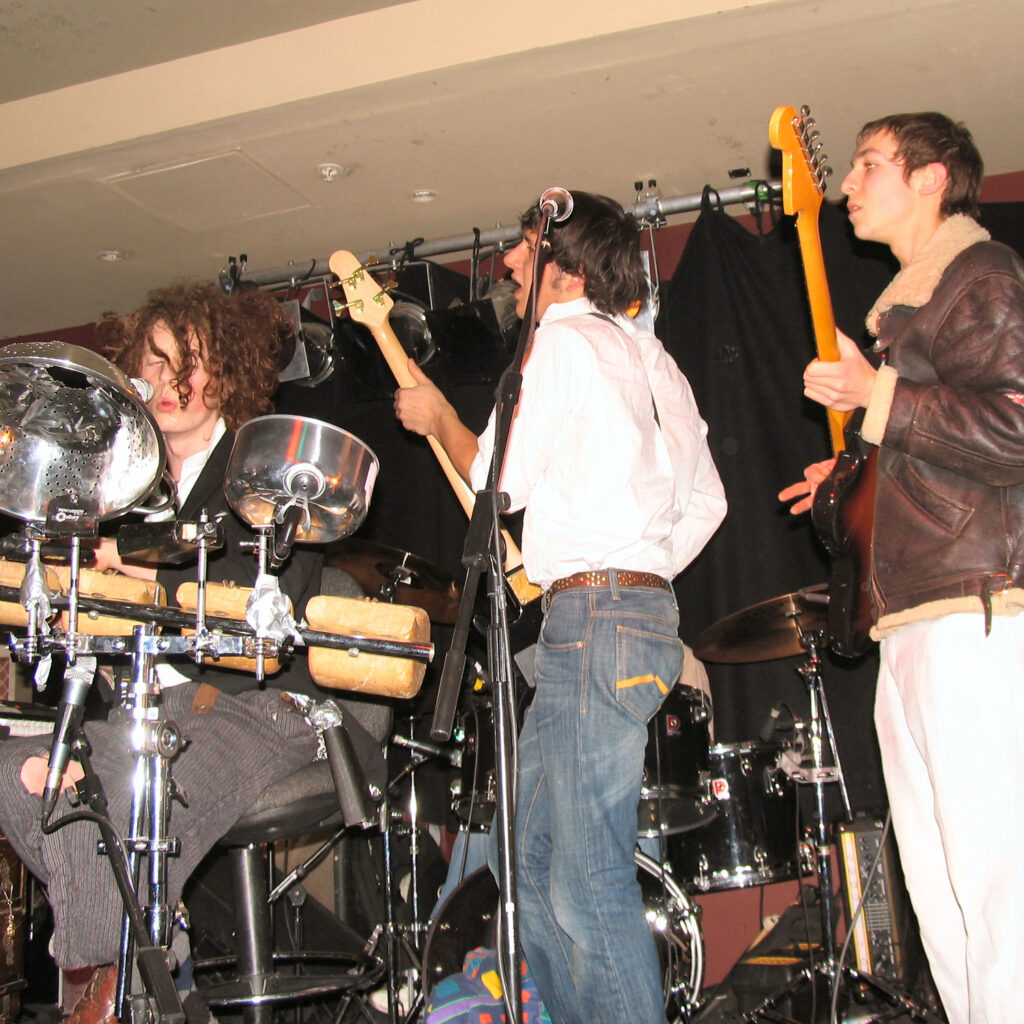 2010-2020
---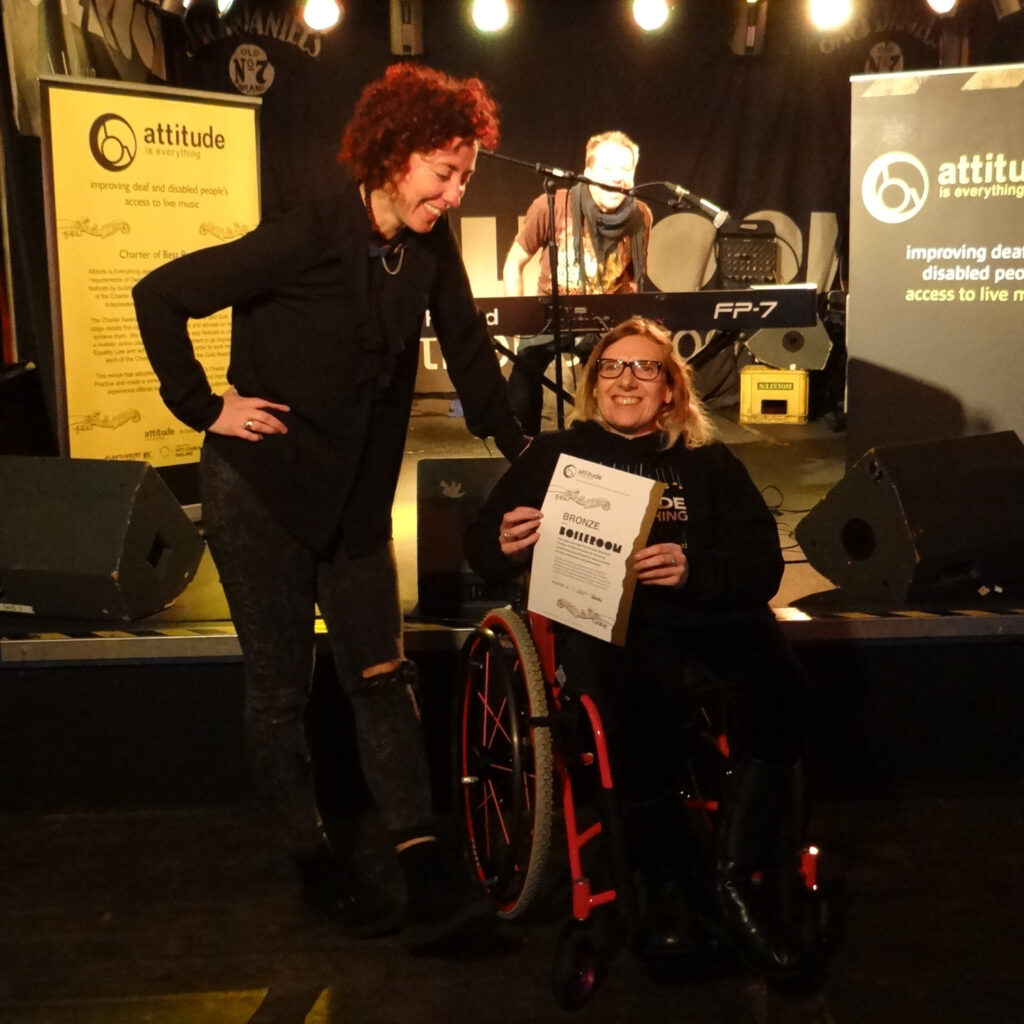 This photo was taken inside the Boiler Room in Guildford. It was a significant moment because this venue was the 100th one to sign up to the Charter. It's also a grassroots venue under 500-capacity, and paved the way for other small venues to join too. I'm not sure what Dominique and I were laughing at, but I have fond memories of the event; lots of local disabled people came down and local bands played too.
In recognising the challenges that small venues faced, Paul Hamlyn Foundation invested in us for the first time in 2017, and we created our 'Breaking the Sound Barriers' programme dedicated to supporting small venues. With their investment, we employed a Grassroots Venue Manager, and we created a Grassroots Venue Charter with associated guidance and training. We also formed one of our most important partnerships – with the Music Venues Trust – who do so much to support small, live venues to exist and more importantly, to save them from developers. Small venues are the lifeblood of music communities and its where bands first develop their audiences. That's why it's important for them to be accessible so that local disabled people can play their full part in local, thriving music scenes.
Their investment also enabled us to enlist more volunteer Mystery Shoppers from across the whole of Britain and to host our first Outstanding Attitude Awards in 2019 at Islington Assembly Halls, Islington, London, UK. We celebrated achievements in the sector in improving access to live events, including practical access, customer service, ticketing and technical innovation.
Key moments
2010
Awarded the London 2021 'Inspire' Mark for our Access Toolkit for event organisers; this led to us working on the Cultural Olympiad. Second Club Attitude on the Dada Stage at Glastonbury
2011
Launched our first State of Access Report at the Houses of Parliament. Third Club Attitude on the Dada Stage at Glastonbury.
2013
Suzanne awarded an MBE in the Queen's Birthday Honours List in June for ''services to music, arts and disabled people.'
2014
Launched our second State of Access Report at the Roundhouse, Camden, London. Boiler Room in Guildford become the 100th venue to sign up to our Charter.
Music Without Barriers campaign launched with Esmee Fairbairn Foundation support.
First international franchise Charter project with the Equal Opportunities Council in Norland and the Norwegian Live Music Association
2015
Won the 'Accessible Britain Challenge – Inclusive Social Activities' category.
Suzanne awarded 'Access All Areas Editor's Award' at the Event Production Awards.
2016
Launched our third State of Access Report at Bush Hall, Shepherds Bush, London
2017
Awarded our Paul Hamlyn Foundation grant for our 'Breaking the Sound Barriers' programme.
Live Events Access Charter endorsed by UK Music's 'Live Music Group' and the UK Government as the 'Best Practice Access Standards in Live Music.'
Suzanne appointed as one of the Minister for Disabled People, Work and Health's Disability Sector Champions. She was also listed in She Said So's 'Alternative Power 100 List' – celebrating the music industry's unheard voices and enrolled in Music Week's Women In Music Awards 'Roll Of Honour.'
Hosted our Insight Access Weekend – Access and Disability in DIY at DIY Space for London, South London, UK funded by the PRS Foundation. Our DIY Access Guide was published later the same year.
2018
Awarded additional funding from Arts Council England for our 'Next Stage' programme for disabled artists.
Suzanne awarded Music Week's Women in Music 'Campaigner of the Year' Award.
We launched our fourth State of Access Report at the Roundhouse, Camden, London, UK
2019
Collaborated with Falmouth University Events MA course on a distance learning module on access and events.
Hosted our first awards ceremony, the 'Outstanding Attitude' Awards at Islington Assembly Hall.
Launched our Next Stage initiative at the Great Escape.
Awarded our first investment from the National Lottery Community Fund for our 'Beyond The Music' programme.
2020 – 2022
---
This photo was taken in April 2022 when we launched our Beyond The Music Future Leaders programme at Colours Hoxton, East London; introducing 10 aspiring disabled professionals with the talent and the skills to become leaders in the sector. A host of creative organisations attended, all willing to offer our professionals opportunities to thrive.
Yet, the years preceding this event marked some of the toughest challenges in Attitude is Everything's history, for our disabled beneficiaries and everyone in music and live events. Live events shut down overnight and many of our sector colleagues were furloughed or made redundant. People were isolated at home.
Attitude is Everything responded by hosting online sessions for our disabled artists, professionals and audiences to offer support, to listen and to empathise. We offered the same support to our Charter Venues and Festivals – many of whom took the opportunity to train with us and talk through their access plans if they received 'Culture Recovery Funds' from Arts Council; there were lots of discussions with the sector on how to 'Rebuild Back Better.' Throughout this period our intention was clear; music and live events still had to remain accessible and together with other disability organisations in the sector, we published '10 Inclusive Principles for Reopening Your Venue.' And when venues and festivals reopened, we were ready to support them navigate the 'New Normal' with our 'Access Guide: Reopening Your Venue.'
Our 20th and 21st Anniversaries didn't go unmarked in this period; we celebrated as best we could, even if it wasn't exactly what we had planned. Finally in September 2021 we could gather in person, so The Ivors' Academy very kindly hosted our 21st Party at The Garden, Theatre Royal Drury Lane, which the British Phonographic Industry (BPI), The Musicians Union (MU), UK Music, Phonographic Performance Limited (PPL) and the Music Publishers Association (MPA) donated to.
Key moments
2020
Celebrated our 20th Anniversary!
Awarded second investment from Esmee Fairbairn Foundation to grow our Business Development work.
Launched our Accessible Employment Guide at the Moth Club, East London, UK.
2021
Celebrated our 21st Anniversary!
Founded the Audience Access Alliance, a coalition of 13 disability and access organisations and networks.
Awarded our second, 4-year investment from Paul Hamlyn Foundation for our 'Music Communities' programme to connect disabled people with their local music scenes
2022
Launched our Future Leaders programme in April at Hoxton Colours, East London, UK, part of 'Beyond The Music'.
Introduced the Live Events Access Charter to build upon our previous Charter of Best Practice.
Suzanne awarded an Honorary Fellowship from Falmouth University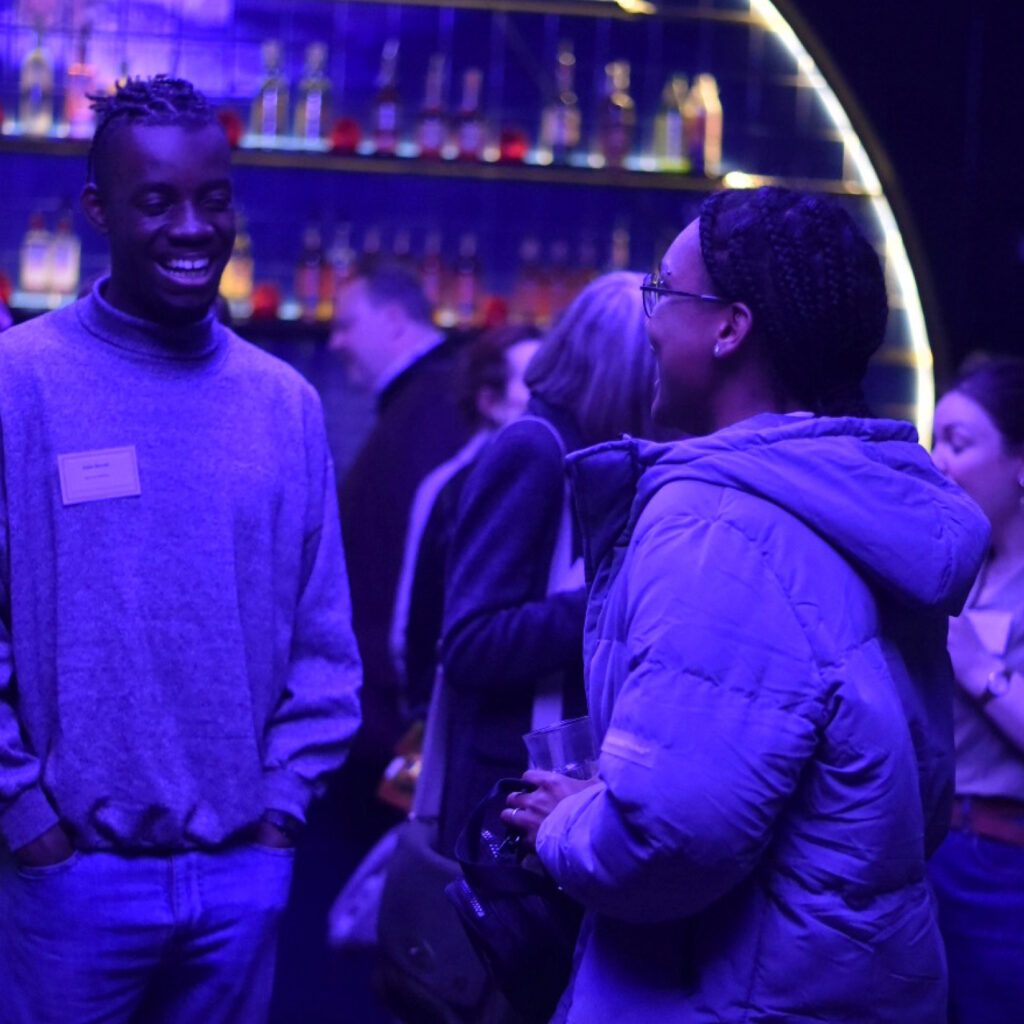 2022 and beyond
---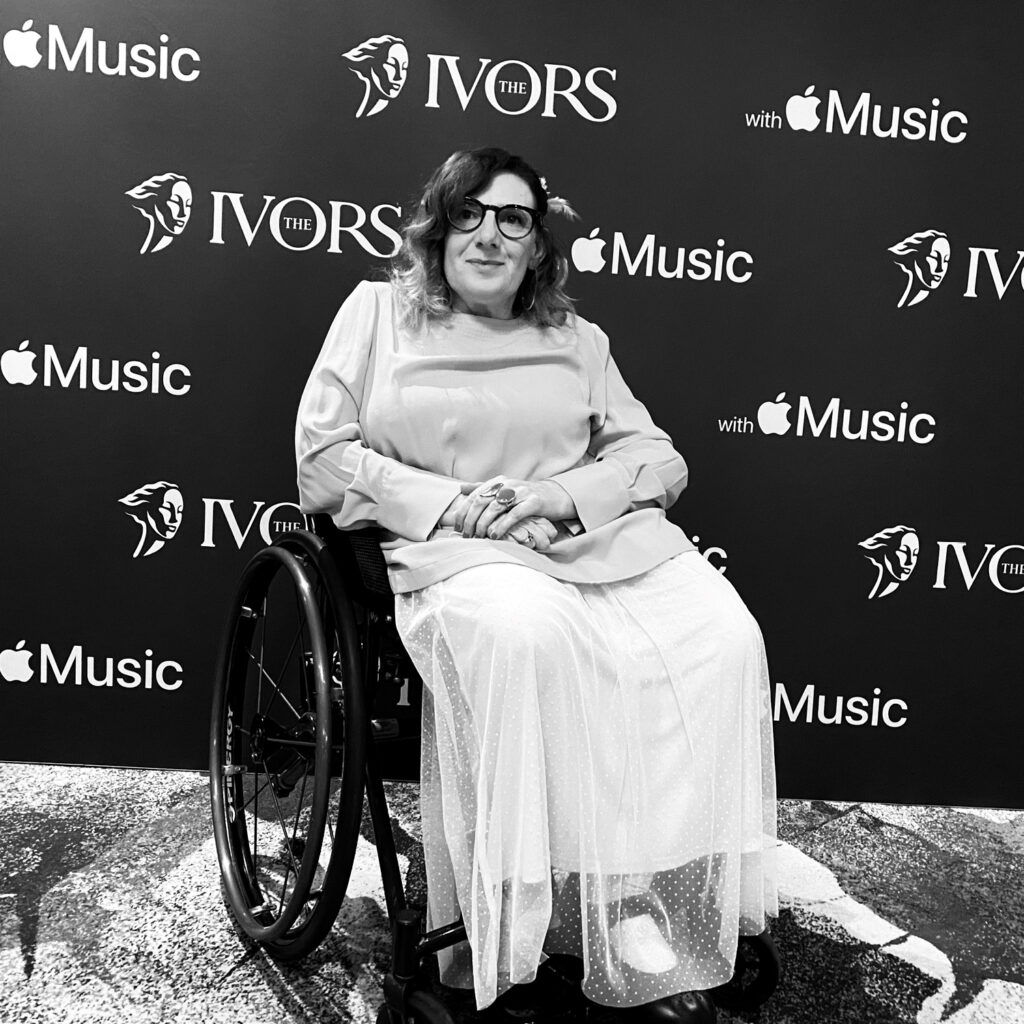 This photo was taken in May 2022 when the Music Publishers Association (MPA) were kind enough to invite me as one of their guests to 'The Ivors.' I had such a surprise because I didn't know that my favourite songwriters, Robert Smith and Simon Gallup from The Cure, were receiving a 'PRS For Music Icon Award!' And I wasn't the only disabled person in the room that day; there were other artists, composers and guests sharing this awesome occasion in an accessible venue – which is how it should be, and how it always should have been.
I still have the same vision that I've always had for Attitude is Everything and it's going to exist for as long as it's needed by disabled people and the music and live event sectors.
And I'm lucky to have shared that vision with lots of like-minded Board members, staff, volunteers and supporters across the years, colleagues who are absolutely passionate to making arts and culture inclusive; many have dedicated many years to making it happen.
My vision is that disabled people have chances and for the creative industries to give opportunities that my generation never had. Whilst we're a lot further down the line to achieving this, we won't be there yet until disabled people can:
Attend all events
Perform at all events
Volunteer at all events
Be employed in their dream job
Be in leadership positions
Without worrying about:
Access
Discrimination
Whether they'll be accepted for who they are
Music and Live Events Without Barriers.